MEUS INSOMNIUM
(My Dream - My Nightmare)
A Novel by Karl Jeney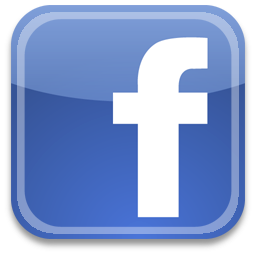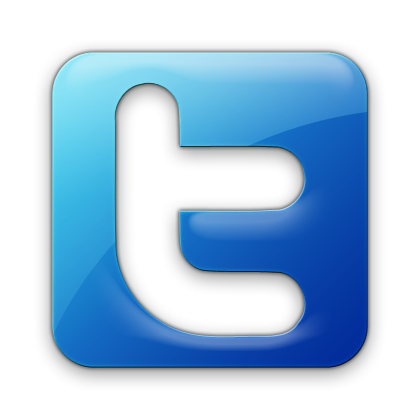 (click on the book for a detailed cover view)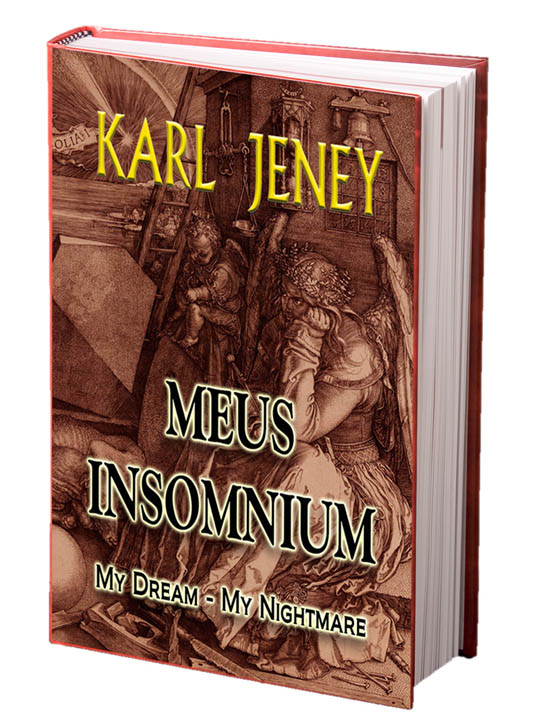 Available in print or as an eBook (the digital equivalent of a printed book)
for your Kindle or Nook reader, iPad, PC, laptop and other handheld devices.
Bonus - sample the first 8 chapters below!
(Note: photo illustrations appear in printed version only)
---
Meus Insomnium is available online worldwide through Amazon.com,
Barnes & Noble and other independent booksellers.
The popular secure links listed below are for your convenience.
Own Meus Insomnium as a printed book or download it as an eBook for your Kindle.
Own Meus Insomnium as a printed book or download it as an eBook for your Nook.
---
Attention Bookstores, Libraries and Independent Resellers!
Click on the link below for important information.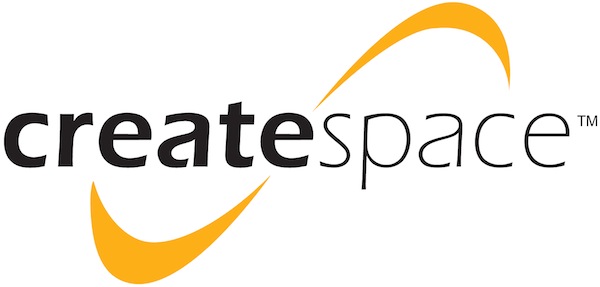 ---
About the author...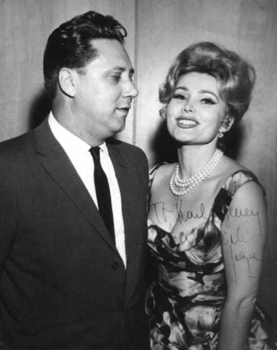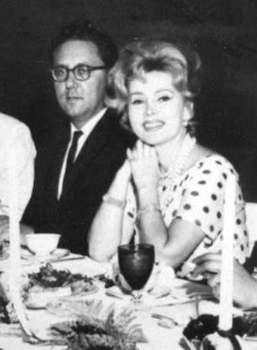 My father years ago with one of his special friends - fellow Hungarian and legendary actress and socialite Zsa Zsa Gabor.
Their conversations were laced with marvelous candor and wit.
And then there's me...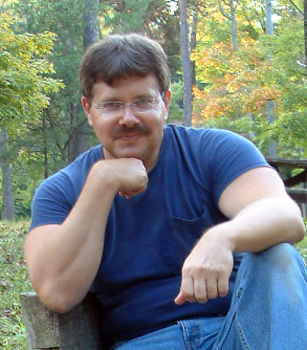 My name is Karl Jeney – a civilized Hungarian with a cultured barbarian ancestry.
In 2005 my writing was featured in The Columbus Dispatch Newspaper's Create-a-Classic online novel series.

My 15 minutes of fame.

Read my contribution by clicking on the certificate below.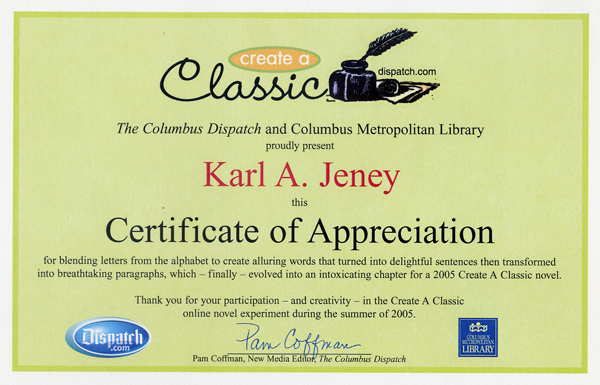 Preview the text of an episode I wrote for the CW Network's TV program SUPERNATURAL at:
www.winchestercathedral.8m.com
(my other 15 minutes of fame)
---
MEUS INSOMNIUM
(synopsis)
Meus Insomnium (Latin with a dual meaning: My Dream or My Nightmare) chronicles the struggles of handsome 49-year-old Ohio psychiatrist Dr. Jonas Reddington and his two most troubled patients: Wesley, 57, an African-American postman who as a child hiding in a Georgia cornfield witnessed the brutal Klan murder of his grandfather; and Jacob, 74, a survivor of Auschwitz concentration camp wrestling with the loss of his sister there many years ago. Soon an unusual relic - a petrified box - enters their lives. Embellished with inscriptions and an enigmatic woodcut, it tantalizes them with its peculiar properties and its sordid past; a past that's taken it from its creation during the Renaissance, through the hands of Adolf Hitler, and finally to Dr. Reddington who decides to utilize it as a therapy tool during his counseling sessions. That fateful decision thrusts him and his wife Katherine on a spiritual quest with startling consequences.
As you know, racial issues continue to populate the news. Anti-Semitic rants worldwide. The doctored family portrait depicting President Barack Obama as a baby ape. The controversial arrest of African-American scholar Henry Louis Gates. A black security guard gunned down at the United States Holocaust Museum by 88-year-old neo-Nazi James von Brunn. Civil rights champion Jim Burwell, a Detroit mechanic who died in 1990, now revealed to have led a double life as a high ranking member of the Ku Klux Klan. And most recently, the senseless racially motivated murder of 49-year-old James Craig Anderson in a Mississippi hotel parking lot by white teenagers looking for a black man to "mess with." Just for the fun of it. They beat him. They ran over him with a pickup truck. They laughed about it later at a MacDonald's. Therefore, I believe my novel will have a broad and relevant appeal. And it is most certainly intended to.
During my research phase, I interviewed a number of persons intimately familiar with the Holocaust in Europe and those victimized by racial turmoil in the American South during the 1950s and 60s. My parents' eyewitness accounts of the Nazi liquidation of Hungary's 600,000 Jews impacted portions of my story as well.
Peppered with fascinating historical revelations and photographs, the poignant novel raises a soul-searching question:
Which carries more weight, justice or forgiveness?
Meus Insomnium is an unforgettable journey into the power of the human spirit, faith - and much more.
That said, I hope you enjoy the first 8 chapters which appear below. If you do, the provided links at the top and bottom of this page will take you directly to secure sites where you can conveniently purchase the complete novel as either an eBook or a physical printed book and then add it to your personal collection.
---
Acclaim for Meus Insomnium by its Readers
(names used by permission)
"I finished your magnum opus earlier this week and congratulate you on a wonderful job and a great, fast, exciting read. I am blown away at the scope of your research and wonder how you were able to concoct such a tale. The pool scene cracked me up so much that my wife called downstairs to ask if I was OK, and the pencil-eating, finger-hungry magic box imagery is amazingly vivid. I'll never think of Dürer in the same way. Mazel Tov!"
Jackie Jacobs, Executive Director, The Columbus Jewish Foundation.

"Last week I attended the American Hungarian Educators Conference in Cleveland and gave a short review of Meus Insomnium which I finished shortly after receiving it. There was much interest in it; members of the association wrote down your name. The organizers would be happy to hear a presentation about where to research all the material for a book like yours. The Educators Conference is held in different universities each year. Twice it was held in Hungary. Your book was easy to read and many of the historical parts are familiar to me. I can attest to the authenticity of the events described. The mystery of the Box never leaves the reader - secrets are always a great read. Overall, I liked your book. The short chapters made it easy to read; the parallel stories kept my interest up and waiting for the next chapter. I'm glad you wrote this book and urge you to keep writing."
Dr. Bela J. Bognar, Ph.D., M.S.W., A.C.S.W., L.I.S.W.
Professor Emeritus – Wright State University

"A masterful interweaving of complex events and personae to create a narrative tapestry whose strands are held together and given coherence by the mysterious and sometimes sinister Box. An incredible amount of work went into the careful selection and placement of historical data and background, not to mention the accompanying relevant pictures punctuating the narrative of Meus Insomnium. For a less gifted writer such embellishments would serve only to prop up or obscure a weak story line. But in this case the plot is so solid despite its twists that such additions enhance, rather than overcome, the story; they deepen the reader's involvement. Yet even without the historical digressions, though they add further texture to the story, the plot is substantial enough to stand alone."
Ms. Sonya Ngo, Cornell graduate and wife of the late Dr. Dat Ton Ngo:
former First Secretary of the South Vietnamese Embassy in Australia,
Ambassador to South Korea and Deputy Ambassador to the United States.

"This is a great book! You are an excellent storyteller, very good at leading the reader on and making them want to step into the next chapter. A page turner. A chapter turner. I couldn't put it down."
Jeannine Vegh, Psychotherapist, M.A., I.M.F.T. – and Writer
Author of 'The Uprisers' and 'Little Girls Should Ride Ponies'

"The story really draws you in and pulls you through the book. It didn't take me very long to read it because I was so engaged. I thoroughly enjoyed it. Very good book!!"
Dr. Michele McClure D.V.M., Morse Road Veterinary Clinic

"I already began recommending Meus Insomnium to my friends after reading only the first eight chapters. However, I finished it on Saturday. I LOVED it. Wonderful page-turner, great plot, very refreshing. All the little sub-plots were interesting enough on their own to keep me wanting more, but there was always the promise of them culminating and coalescing into one huge main plot. For me, a good novel is one that you can't wait to get to the end of while you're reading it, but when it's through you miss the relationship you have built with the characters. So thank you. You've got a new fan."
Ruth Years, Office Manager, Morse Road Veterinary Clinic

"I downloaded Meus Insomnium to my Nook reader and started reading and couldn't put it down. Reading is a passion of mine and I read tons. The real and the fiction are so well blended in this book it was amazing. You have a new fan."
Patty Stewart CLU®, ChFC®, Patty Stewart Insurance Agency, Inc.

"Interesting story. Hard to put down once you begin reading. I love novels that mix history and mystery. Keeps you turning the pages to find out what happens next! You'll want to recommend Meus Insomnium to your friends. I know I will!"
J. M. - Toms River, N.J.

"I strongly believe that as human beings we must change our way of thinking about, and how we deal with, each other. And if you want to see a change in the world, you really DO need to start by being the change you wish to see. With that said, I want you to know that I have felt for a long time now that there didn't seem to be any authors (other than possibly Dan Brown and maybe Dean Koontz), with the chutzpah to write a good novel with some obviously strong spiritual (not religious) overtones. Not only have you stepped up to the plate, but you have done it with enough subtlety that most people won't really notice it.....consciously. Also, you have come up with a refreshingly unique plot. Not at all predictable, and very believable."
Anonymous

"When I picked it up I couldn't put it down. That was enough for me.
A first-rate novel, a meaningful experience and an excellent read. Well done!"
Anonymous

"Just wanted you to know, one of the ladies that work for me in my office borrowed your book and just finished it. She really liked it. Wasn't quite sure how she would react but she did seem to really enjoy it. She's a lite reader and I wanted her to have this to read to get her into something with a lot of depth to it. She really responded well and I am so glad she did. Thanks again for the great read!!"
P. S. - Grove City, Ohio

"I just finished your book. It's great!
I'm a reader and this book was well written, held my interest, and informative too.
Thank you so much for writing it and I am waiting anxiously for your next one!"
Shirley Cox Kapp – Watertown, Tennessee

More Reader Reviews to Come!
---
MEUS INSOMNIUM
A Novel
by
KARL JENEY
Copyright 2006-2011
Prologue
Italy – May 1944
Sitting on the first of six tanks parked along the edge of a dirt road Lieutenant Kenneth Reddington watched cautiously through his binoculars as someone approached from the nearby village. It was a woman. She carried something. And she was running
"We've got a visitor," Reddington barked to Callahan and Estes, the two privates assigned to him. He snuffed out a cigarette before jumping down from his tank.
The frantic woman knew she had to reach the Americans. Her former employer, who narrowly escaped capture herself and had slipped out of the country, made that clear to her. She wasn't about to let her down now.
"You American? You USA?" she gasped between breaths upon arrival.
"Clark Gable. Betty Grable. Yeah, yeah," Reddington nodded, stepping toward her. "What've you got there?"
She held out a wooden box. Seconds later popping sounds pierced the air. The woman dropped to her knees with a quizzical expression as red began to stain the front of her flowery dress. Her eyes rolled up and she fell backward; the box she carried tumbled to the road. Bullets kicked up dust at the Americans' feet as a frantic German officer sprang from a roadside ditch, running, waving and firing his pistol erratically.
"Geben sie es mir! Geben sie mir den kasten!" he screamed until he was felled by a bullet from Callahan's .45. As he went down his head struck the ground inches from the peculiar box lying in the road. Mortally wounded, he soon drew his last breath.
Everyone stood momentarily frozen.
"Lieutenant, are you okay?" called Callahan.
Reddington approached the dead soldier, whose mad gaze was still fixed on the relic. "Drag that bastard out of my sight."
"What the hell got into him?" Estes puzzled.
"Don't know, but there are probably more Krauts in town. Get on the radio and inform Recon." Reddington covered the woman with his jacket before stooping to scrutinize the box she had offered to them just moments before. It resembled petrified wood, embellished with inscriptions and engravings. And it had a keyhole – but no key.
Soon, townsfolk approached drawn by the commotion. They solemnly carried the dead woman away upon their shoulders while two elderly women wailed in grief from behind. The lieutenant held the relic out to them; an old man looked over his shoulder, shook his head and waved it off. Turning, he spat on the German's body before rejoining his friends.
Rattled, Kenneth Reddington stowed the box inside his tank. He puzzled over the behavior of the German officer; it just didn't make sense especially since he wore the insignia of a field marshall. High ranking. Disciplined. Battle-hardened.
And completely out of his mind.
Chapter 1
PRESENT DAY
On a Saturday evening, and glad to be back home in Ohio after the Los Angeles conference on depression offered no new revelations, 49-year-old Dr. Jonas Reddington dropped his suitcase and fumbled with his keys as his wife opened the door. He gave Katherine a tired kiss.
"I'm gonna take a shower. Long day, long flight." He made for the stairs.
Twelve years ago Jonas Reddington purchased an old tall and narrow office building in downtown Columbus just north of the epicenter of Broad and High streets. Its facade was overlaid with polished granite slabs in two shades of gray while the rest of the renovated six story edifice, sandwiched between a pharmacy and a pizzeria, stretched backward to a forgotten alley. His practice occupied the top floor; the remaining floors were shared by four tenants that provided an income sufficient for Jonas to pay off the mortgage last January. He leased to an accountant, a coin dealer and a martial arts instructor who furnished a regular supply of clients for the chiropractor on the second floor. The marbled entry level was open and inviting; a menagerie of photographs and paintings by local artists adorned the burnished walls and reflected Katherine's passion for art.
Before long Jonas slipped into jogging pants and a sweatshirt and joined his wife for dinner.
"There's a package from your mom in the study. Came yesterday."
"What is it?"
She shrugged her shoulders. "Don't know."
Chapter 2
Jonas sliced through the thick brown tape securing the cardboard package on his desk as Katherine watched and instantly they were assaulted with a pungent odor.
"It smells like pot," he smirked. Reaching inside he pulled out crumpled newspaper, then a dark blue scarf with the letters A.F. embroidered in white in a corner. He set it aside. Securing his grip on the source of the smell he pulled it out and set it on the desk blotter
"It's hideous," Katherine grimaced.
It was a wooden box, or was it metal; hard to tell. Its surface had little visible grain, bore the gray patina of petrified wood and had no seams. It appeared solid. Jonas picked it up and gently shook it. Nothing. On the back he eyed two black hinges, below them a Latin inscription:
Et omnia in quibus habitant filii hominum et bestiae agri volucresque caeli dedit
in manu tua et sub dicione tua universa constituit tu es ergo caput aureum.
On the left side more words:
Providentiae Tuae Me Committo.
On the right flush with the wood was a circular gold disk about the size of a CD etched with the alternating faces of the seven deadly sins: Pride, Avarice, Anger, Lust, Gluttony, Envy and Sloth. The lid was topped with an exquisitely detailed woodcut dominated by the figure of a brooding angel sitting with an expression of dejection.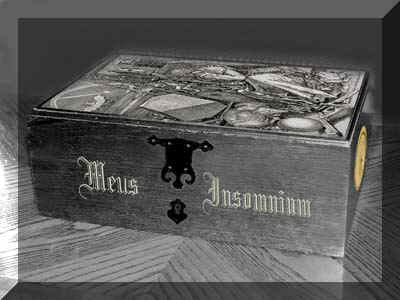 On the front of the Box a heavy black vertical latch was firmly seated into a slot. Below it was a keyhole. And deftly inlaid in mother-of-pearl prominent letters revealed yet another inscription: MEUS INSOMNIUM.
Jonas dialed the phone. "Mom, I got your package. What am I supposed to do with this stuff?"
Ingrid sighed. "I was in the basement rummaging through some of Ken's war memorabilia last week. When I get to missing him badly, that's what I do. Hard to believe he's been gone five years already."
"I know."
"Anyway, I found a strange box stowed away among your father's stuff. It looked pretty old. I thought maybe you might want it. Maybe it has some value. Besides, it's ugly and it stinks," Ingrid chuckled.
"Thanks a lot. Actually, it doesn't smell so bad once you get it out in the open. I remember that blue scarf. Dad told me he found it in Germany."
"Scarf?"
"With A.F. embroidered into it."
"Oh right. It was in the carton along with the gun."
"Gun?"
"Didn't you get it? The Nazi pistol?"
Jonas pulled out more crumpled newspaper. Inside a plastic sandwich bag was a German Lugar with a swastika emblazoned on the grip. Its site was damaged. "Got it."
"I hope you don't mind that I sent it."
"I could have come by and gotten it."
"I didn't want to inconvenience you."
"Mom," Jonas sighed.
"Tell that sweet daughter of yours to call me sometime."
"Sarah turned 23 last week."
"They grow up too fast. Well, you'll always be my little boy."
"Kate and I will visit soon. I promise. When we do, want me to bring some air freshener?"
"Silly. But I'll hold you to your promise."
"Okay. Love you."
"I love you too, Jonas."
Chapter 3
Back in his study Jonas scrutinized the engraving on the lid of the Box as it sat on the desk blotter. Its odor, which periodically waxed and waned, was almost gone and though it was late and he was ready for sleep the Relic wouldn't let him. Not just yet.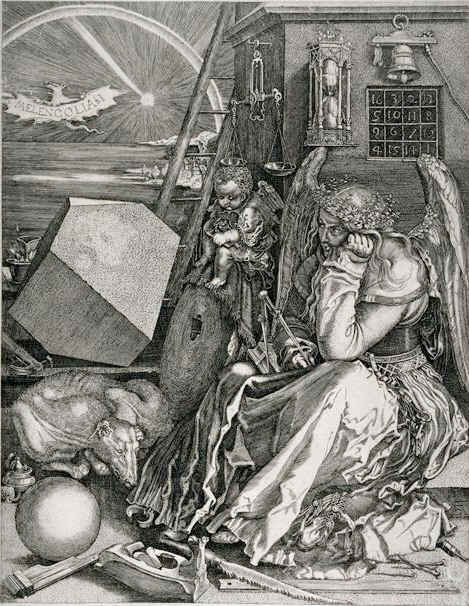 It was profusely embellished. In the foreground a dejected angel sat in troubled reflection while writing something. Behind it a small building featured a square window of sixteen panes. Each pane framed a number. Attached to the wall above the window hung a bell with a pull rope. To the left, also attached to the wall, was an hourglass. A seven-rung ladder ran up to the roof on the far side of the building and lying around were the implements of a craftsman: a hammer and nails, a saw and a plane, and two large stones – a sphere and a polyhedron. Curled on the ground slept an emaciated dog. Near the feet of the angel was a bulging purse and on the opposite side a somber toddler with wings sat atop a grindstone and, like its adult counterpart, wrote something on a tablet while just above its head hung an empty set of measuring scales. In the distance a lake spread beneath a sky filled with a sunburst of light across which arched a rainbow while a bat flew overhead with outstretched wings; upon them was written: MELENCOLIA.
Jonas held a magnifying glass over a flat side of the stone polyhedron; he could faintly discern the image of a human skull tinged with an expression of agony. Then he hovered over the square of sixteen panes of numbers. Etched were four rows of four numbers horizontally and four columns of four numbers vertically. Also, the numbers could be read as a sequence of four diagonally.
"I thought you were coming to bed?" Katherine inquired, leaning against the doorpost before moving behind him and looking over his shoulder
"What do you make of these numbers?" he puzzled.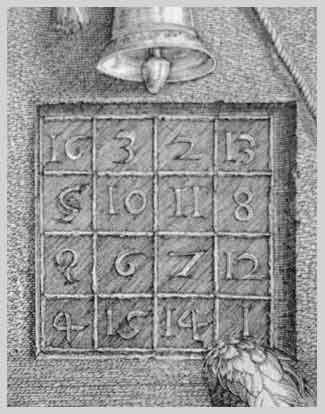 She pursed her lips. "Do you have the key to it?"
"Nope. But it doesn't look like it can be opened because there aren't any seams. None I can see."
"So then there's nothing inside?"
"Hard to say. I think I'll call Laszlo Fodor tomorrow and have him take a look at it."
"Isn't the professor retired?"
"He'll never retire. And this thing's right up his alley.
Katherine eyed the barely visible skull and shook her head. "I don't like it."
"Why not?"
She didn't answer as she walked toward the door. "I'm going upstairs."
Jonas yawned before moving toward Katherine, a woman who had grown accustomed to being reminded on occasion that she was a dead ringer for screen star Ashley Judd. "I think I'll stow it under our bed tonight, you know, just for safe keeping.
"It stays out of our bedroom and so will you if you don't behave." She flicked off the light and moved away as his advance quickened. He caught her halfway up the dimly lit stairs.
"Don't tell me you're afraid of a little mischief?" Their faces were close, their lips almost touching.
"I said behave," she teased.
He led her to their room and smiled before closing the door. "Not a chance."
In the study the Box sat on Jonas' desk as moonlight filtered through a window and danced across the chiseled patterns etched into its lid. It cast an eerie reflection upon the wall.
Chapter 4
Snatching the Monday morning edition of the Columbus Dispatch from the floor Jonas' secretary closed the office door behind her with a kick. As Karen precariously juggled an armful of envelopes and a box of donuts she let them spill onto her desk behind a framed printout:
Until Morale Improves Around Here the Beatings Will Continue.
Continuing her morning ritual she set the donuts by the coffee pot and, clutching the folded newspaper beneath an arm, fumbled with her keys to open Jonas' office. A flip of the switch brought on the lights. After tossing the newspaper on Jonas' desk Karen parted the vertical blinds. Finally, she returned to the coffee pot in the waiting area, set out white Styrofoam cups and grabbed a donut. At that moment Jonas arrived carrying a cardboard box tucked beneath his arm and walked directly into his office without saying a word, closing the door. Shrugging her shoulders Karen began sorting the scattered pile of envelopes on her desk, retrieving those that had fallen on the floor.
Jonas freshened up in the adjoining private washroom. He then turned his attention to the cardboard box on his desk. From it he removed the blue stitched scarf which he placed inside a drawer. Then he slid the Box out and set it on the coffee table in front of the leather sofa. Sometimes he put out something unusual to note any response it might illicit from his patients; an alternative to the inkblot test. The Box seemed the perfect choice this time around.
Ever prompt, Wesley Teague strode into the waiting area, grabbed a magazine and took a seat. The slender 57-year-old African American postman was restless. He thought about his nightmare from the previous night…
"Pull it up! Pull it up!" An angry man ordered two accomplices to tug harder on a long rope looped over a high branch of a venerable 200 year-old oak before emptying a canister of gas onto the struggling form at the end of a noose. Something was attached to it illuminated by the headlights of a pickup truck. "Pull the sumbitch higher!" Then, a tossed match ignited flames reflected in a killer's steely eyes. Moments later a loud noise followed the eruption of a shotgun blast; the nighttime spectacle resembled Fourth of July sparklers as hundreds of yellow embers burst into the air. The besieged form ceased its struggle and swung limply with renewed momentum as flames engulfed it and began climbing up the rope. "Torch the whole damn place! The house, the barn, everything!" Soon a pickup truck rumbled by leaving only the sound of fire crackling in the distance while a familiar voice which earlier had been singing Amazing Grace and had quickly turned into gagging finally fell silent.
"You can go in now Mr. Teague," Karen said softly. She touched his shoulder.
Wesley flinched. He snatched a few Life Savers from the crystal bowl on Karen's desk as he passed by. Wesley didn't mind the one hour drive from Dayton to see Jonas every week. When his union rep at the post office learned of Wesley's recurring nightmares he encouraged him to schedule an appointment.
"My brother in Columbus was a patient of Doc Reddington. Swears by him."
Wesley took his advice.
Stepping into Jonas' office the Frederic Remington portrait of cowboys roping cattle was the first thing that caught Wesley's eye every time. On every visit he'd scrutinize the pieces of art or antiques on the bookshelves, tables and walls – most of them birthday or holiday gifts from Katherine. He never touched anything; he would just gaze. Below the Remington on a square mahogany pedestal table sat a Franklin Mint Civil War chess set. The North pieces of blue with gold bases and the South in gray and pewter captivated him; the reliefs of Civil War battles on all four sides of the elevated playing board displayed scenes of valor that quickened his emotions. Peering over the top of his gold rimmed glasses he leaned close to inspect General Ulysses S. Grant who stood with confidence, his hands on his waist in a pose of defiance. Civil War history and slavery were of special interest to Wesley; his late grandfather Vaudie often shared memorable tales of life in the South years ago. An avid history buff Wesley was in love with the past.
"I've got to get me one of those," he said under his breath.
The voice of Jonas broke his absorption. "I'll be out in a minute."
"Okey doke." After Wesley popped a Life Saver into his mouth he took his place on the leather sofa and glanced toward the coffee table.
And then he saw it.
The temptation to touch it was overwhelming. As he leaned closer to the Box and scrutinized the woodcut on the top, his eyes were drawn to the child sitting on a grindstone, then to the measuring scales above it.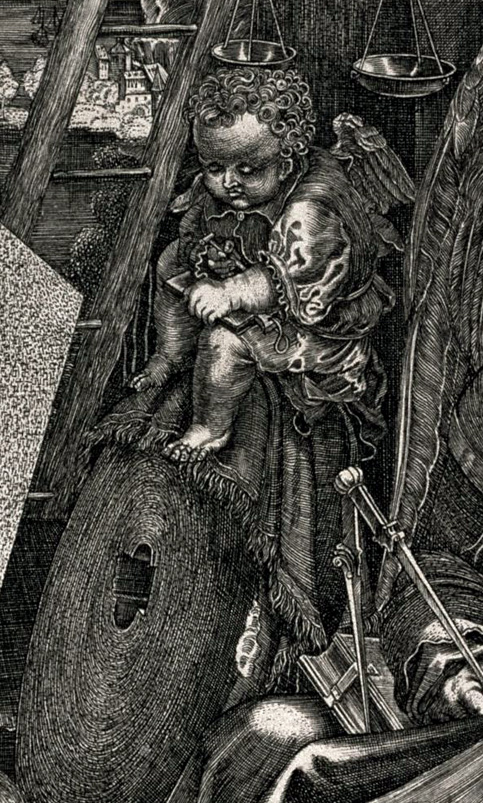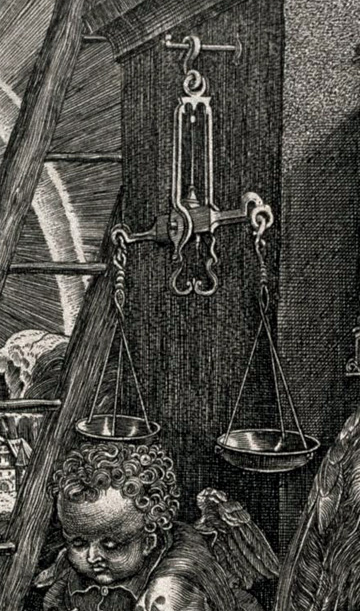 "What do you think?" asked Jonas, who now stood watching
"It's an interestin' piece doc but I don't know what the devil it is."
"Neither do I."
"Where'd you get it?"
"My father got it during World War II."
"Can I…?"
Turning around Jonas spotted Wesley's hands hovering over the Relic. "Umm, okay."
Wesley reverently held the Box for a moment. It felt cold. Before long he returned it to the table and ran his calloused fingers along the lid. "Lordy, that's sure a fine lookin' woodcut." On the front, the beauty of mother-of-pearl evoked the inlays on the fret board of his beloved Martin guitar. He explored the latch. "What's inside?"
"Not sure."
"Ain't you got no key?"
"Nope."
Rotating it, he scrutinized the various inscriptions yet the large one on the front held his attention. "Now that's Latin; maybe somethin' to do with bad sleepin' or nightmares or somethin'."
Jonas grabbed a legal pad and took a chair opposite Wesley. "Let's talk more about your nightmares."
During the one hour session Jonas noted Wesley's fixation with the Box. Okay, this thing may be useful afterall. "We've reached a point where it's time to try a different approach. How do you feel about hypnosis?"
"If you think it'll help. Never had that done before. Is it hard?"
"Depends. We'll take it slow and see how it goes. There are times when it's effective in breaching memory barriers."
"Okay doc."
"Then I'll see you next week."
They shook hands. Wesley glanced over his shoulder at the Box on his way out.
Minutes later Jonas stared at a photo attached to the file of his next patient. Jacob Kantor was always polite yet subdued. Except for his two sons he seldom challenged anyone in the slightest. Apparently the lessons on social etiquette the Nazis taught him still lingered.
Chapter 5
"That's the last time you saw your sister? At Auschwitz?"
"Yes doctor," Jacob stuttered. "I watched Annika walk away with a young woman toward the barracks." He wiped his eyes; eyes which soon targeted the Box sitting on the coffee table. "What a curious piece. What is it?"
"What do you think it is?"
He returned his handkerchief to a pocket. "I don't claim to understand its purpose but it seems to me a mixture of sentiment, nature and logic. Various inscriptions and symbols perhaps chosen to make a statement."
"What statement?"
"Hard to say. People see things differently. For example, Auschwitz was to me a great evil. Yet there are those who instead saw the mighty hand of God rescuing the Jewish people from the brink, for we now have the nation of Israel. I could never have imagined it while so many suffered and died by the thousands at every turn. Indeed, I had reached a point where I felt God had abandoned us. But I know He didn't, blessed be His name."
"What convinced you that God hadn't abandoned you?" And Jonas' question was more than one of professional curiosity. After the death of his father Jonas wrestled with a persistent despondency. Maybe life has no meaning. Perhaps there is no ultimate justice – rich people win lotteries; good people suffer. Maybe death is nothing more than a cosmic twitch on the face of an impersonal and purposeless universe.
"What convinced me of God's faithfulness?" Jacob responded. "I survived."
Jonas eyed him sympathetically. "Shall we continue next week?"
"Of course."
Curiously, the rest of Jonas' patients showed little interest in the Box; almost as if it wasn't there. Finally, informing Karen that he would be gone all day tomorrow and to reschedule his appointments Jonas glanced at his Rolex – . Busy day. Long day. Pausing at a family portrait he gazed at his father smiling back with sad eyes before making for the door with the Relic underneath his arm.
Tomorrow we'll see what Laszlo has to say.
Chapter 6
Born in Transylvania, Romania, 79-year-old Dr. Laszlo Fodor was fiercely loyal to his Hungarian ancestry. He chafed over the fact that Transylvania was no longer a part of Hungary and now within the borders of Romania, laying the blame squarely on the shoulders of U.S. President Franklin Roosevelt. The professor sided with British Prime Minister Winston Churchill who regretted the partitioning of post-war Eastern Europe to appease despotic Soviet dictator Joseph Stalin.
"I think we butchered the wrong hog," Churchill later lamented. And Laszlo agreed.
His teaching credentials extended back to the University of Vienna where he received his doctorates in world history, law and political science. The outbreak of World War II brought life as an itinerant refugee in railroad boxcars but he soon donned a rifle and joined the partisans in their struggle against the Nazis. When the war was over he furthered his education and taught in various universities throughout Europe. In October, 1956 he became a freedom fighter during the short-lived uprising against communism in Hungary which was crushed by the Soviets. Slipping through their hands he escaped to the United States and within two months was conducting classes at Yale. Eleven years later he joined the faculty at Ohio State University, and finally retired to the lecture circuit. The bullet that tore into Laszlo's right leg during the Hungarian uprising left him with a limp; a simple knotted oak cane became the constant companion of the portly 5'6" scholar with a baritone voice, thick disheveled gray hair and probing blue/green eyes. An expert in medieval literature and art and with a face which had graced numerous periodicals, Jonas knew there was no one better qualified than the charismatic Dr. Fodor, a man with an encyclopedic knowledge of world history, to help shed light on the Box.
Ten minutes after exiting the freeway on a crisp Tuesday morning Jonas drove his 1967 Corvette through an open iron gate and as the blacktop driveway curved to the left it brought him to the professor's stately Cincinnati Tudor-style home. Through a large bay window he saw Dr. Laszlo Fodor standing in his study talking on the phone. Moments later Jonas stood at the front door with the Box tucked under his arm. He pressed the illuminated button and the ensuing chimes brought a petite heavyset elderly woman to greet him.
"Velcome doktoor Reddinkton."
"Hello, Mrs. Fodor."
He followed Marta into an oval foyer. Symmetrical double winding staircases, their bases curved inward, greeted them from the opposite side; a large oil painting of the professor's parents hung prominently on the wall between the stairways. An elaborate crystal chandelier and marble flooring added a regal elegance to a room replete with paintings by Renaissance artists adorning its curved walls.
"Vood you like some coffee?"
"Yes, please."
"My husbant is in study; he is expectink you," she gestured.
Jonas strode through a wide mahogany paneled hallway adorned with photographs and paintings of dozens of individuals; he recognized Béla Lugósi – Hollywood's famous Count Dracula. Still on the phone Professor Fodor acknowledged his approach with a nod.
"Words are for the mind, painting is for the eyes but both must find their way to the heart, Charles. You must fashion the right combination of these elements and make them work for you. Find that place where you, and others, are moved by your creation. That's the challenge of the artist." The professor glanced at Jonas apologetically. "Now, I have a visitor I must attend to. Remember what I said. Combine the elements, balance them and be moved by your work. Goodbye." Laszlo eyed Jonas as he hung up the phone. "Charles vacillates on whether to pursue writing or painting. A trip to Europe would help him because it's so rich in literary and artistic genius. Today's artists need to immerse themselves in the works of the old masters." The professor reached out his hand. "Good morning young man! How are you?" His Hungarian accent scented every word.
"Good to see you. It's been a while."
Dr. Fodor settled behind his large cherry wood desk. Jonas sat in an oxblood high-back leather chair across from him and set the Relic on an adjacent chair; Laszlo strained to see it. Seconds later Marta entered with coffee, pastries and two ivory china cups on saucers on a silver tray; she began to pour.
"Marta we can take care of that," the professor objected.
"Nonsense!" She smiled at Jonas. "Cream or shoogar?"
"Black is fine."
Laszlo rapped his fingers impatiently. When he took the cup from Marta's hands she glared at him and left the room.
"My wife is a fine woman but sometimes she gets on my nerves. But I guess I've faired better than my brother in Cleveland. He's been through three wives. He told me the experience has made him a believer in both evolution and creation."
"What?"
"He insists every time he married it was through natural selection but when he divorced it was by intelligent design."
Jonas laughed out loud before sampling a sliced walnut roll. "Well for better or for worse your wife's a damn good cook."
The professor chuckled while patting his rotund belly. "So, what have you brought me today?" He strained once again as he peered over his desk.
"See for yourself." Jonas set the Relic on the desk with a thud. A solid, heavy thud.
As Laszlo slowly rotated it his expression remained stoic through his struggle to maintain composure. "A captivating piece. How did you acquire it?"
"My father got it in Italy during World War II."
Laszlo raised a tufted eyebrow. "Precisely when, do you know?"
"May 1944, I think. He mentioned something about it years ago, but I didn't give it much thought until I took possession of it."
"I see." He gazed silently at the Box. "You will allow me to retain this curiosity for a while, yes?"
"If you insist."
"Italy. May 1944. Hmmm."
"On the outskirts of a small town. What the hell was its name…oh, Nettuno.
"That's in western Italy, near the coast I believe." Dr. Fodor fingered the contours of the woodcut on the lid.
"So is there anything you can tell me about it?"
"I'd rather not speculate at this point."
"How long do you think this will take? I'm using the Box as a therapy tool with a few patients."
Lazslo rose from his chair. "Can you return this Saturday? I should be able to give you an evaluation at that time."
"One o'clock?"
"I'll expect you."
As Laszlo ambled ahead of Jonas toward the study's doorway he wiped beads of sweat from his forehead with a handkerchief. Jonas followed as they entered the portrait adorned hallway.
"My Hunky Hall of Fame," Laszlo gestured proudly with his cane.
"I recognized Dracula when I arrived."
The professor pointed to a collage of women in cluster frames to his right. "Monica Seles, tennis superstar and winner of nine Grand Slam singles. Zsa Zsa Gabor, film star – winner of nine marriages. She once remarked, 'A man is incomplete until he's married. Then he's finished.'"
They walked together through the foyer and stepped outside, stopping beside Jonas' Corvette.
"This is a very nice car. I have a 1954 Mercedes Roadster. The doors open upward like the wings of a seagull in flight." He pointed to a faint diagonal scar on his forehead just above the hairline. "See this? The first day I drove that car home I bumped my head on the edge of the door when I stood up to get out. It took five stitches. Sometimes I wonder how I survived the war in Europe," he laughed.
"You drive a car that wasn't made by Hungarians?"
"Oh, the Germans make excellent automobiles – first class. Anything with class will have a Hungarian behind it, in it, or on it," the professor said with wry smile. "Drive safely and I'll see you next week." He turned and ambled quickly toward the door.
Chapter 7
"Can I help you?" asked the attendant.
"Roses. I'd like some roses for my grandpa's grave." Later, their scent filled her blue Jeep Liberty as Sarah Davis drove west along U.S Route 40. Whenever she visited Kenneth Reddington's grave she'd bring a bag of puff corn for the wild ducks, geese and the two majestic swans at the nearby pond. The swans seldom ventured beyond the water's edge while waiting to snatch any tidbits that landed within their reach. They were lovely animals and Sarah enjoyed watching them even if it had to be from a distance. She pulled her car through the open gate into Sunset Cemetery and drove a short distance to a gently sloping hill. From the back seat she gingerly removed the white roses from their paper wrapping.
For his father's grave Jonas purchased a large upright granite headstone with a laser etched image of Kenneth and Ingrid on its burnished face, cloned from Kenneth's favorite wedding day photograph. To the left was another image of Kenneth taken five years before his passing – Ingrid's favorite. I love his smile, she said. To the right another picture of Ingrid captured the silken beauty of her hair along with the warmth of her eyes. It was Jonas' favorite.
Sarah placed the roses in the metal vase at the base of the monument. A few yards away stood a white granite bench with 'REDDINGTON' neatly chiseled into both sides; she took a seat and collected her thoughts.
"Grandpa, would you ask God to send me a baby? Maybe you could put in a good word."
The sound of geese and ducks echoed from the pond. Twenty yards beyond Kenneth's headstone Sarah watched an elderly man approach a ground-level marker. He seemed to come out of nowhere. He carefully stooped down to place a single red rose into the metal vase but he lost his balance and fell on his rump. His cane and the rose dropped to the ground.
Sarah dashed toward him. "Take my hands and I'll pull you up," she offered. His grip was surprisingly firm for someone who probably wasn't a day shy of 100 years old. His eyes seemed to twinkle; they mesmerized her momentarily before she carefully pulled him to his feet. Dusting himself off he rested his palm upon the gold lion's head at the top of his cane.
"Say hello to Claudia, my wife," he said gesturing to the gravestone.
"Hi, Claudia." Sarah picked up the single long-stemmed rose and placed it into the vase. Her eyes scanned the stone. Fontanarosa. "That's a beautiful name."
"I'm Albert."
"Sarah."
"Claudia loved roses."
"If you were a flower, you'd be a rose."
He smiled. "You're very kind." He leaned harder on his cane. "You have strength in your lovely hands, young lady."
"I'm a kindergarten teacher – second year. You gotta be tough to keep up with the kids," she laughed.
"I'm a painter and sculptor. My latest passion has been baby portraits in oil."
Sarah's expression turned forlorn.
The old man placed his hand upon her face. "Daughter, if it's God's will, your child will come."
She flinched in surprise but his comment filled her with a renewed sense of hope.
"Thank you for helping an old fool back to his feet. Now, you just go and pay your respects." He turned and began to amble away. "Remember, in God's time."
Sarah watched him take slow calculated steps as his elegant cane gave support. As she returned to Kenneth's grave she responded to the sudden urge to turn around. The old man was gone. She scratched her head in perplexity. Her eyes found Claudia's grave again and locked onto the single red rose in the metal vase. Those petals weren't open – were they?
Suddenly a flock of sparrows rushed out of a nearby Cottonwood tree and flew over Kenneth's grave before dispersing over the pond. Sarah watched them wonderstruck. She leaned over Kenneth's headstone spreading her arms across the top. "I love you grandpa."
Sarah strode down the hill to her car retrieving the bag of puff corn and moseyed to the single bench facing the pond and U.S. highway 40 beyond it. Sparse traffic rolled by while the timid swans kept their distance at the edge of the water. As she tossed handfuls of puff corn into the air ducks and geese scurried up the bank with a cacophony of honks and squeals squabbling for the choicest morsels. A determined goose pulled the bag from her lap and scurried away leaving a trail of puff corn that was quickly devoured.
"Bad boy!"
The two regal swans slowly paddled near the water's edge, wary of any human presence. Too bad they won't let me near them. Peeps of baby ducks from behind caught Sarah's attention; she watched them follow their mother up the hill toward her grandfather's grave. She reflected on the old man with the strong hands and a twinkle in his eyes whose reassuring words rekindled hope. Returning to her car she drove slowly along the road that ran beside the base of the hill where Albert disappeared. Suddenly, her eyes were drawn to a monument on her left beyond a large oak tree with branches extending out so far they seemed to defy gravity. She parked. Enticed by the shrine as she emerged from beneath a canopy of oak leaves she stopped and gazed at the five foot tall granite memorial. It was topped with a gray metal sculpture of a little girl, perhaps four years old, crouching in overalls and sporting a scarf while eyeing a baby lamb which stared back with its head cocked. They were frozen in a friendly standoff as they curiously gazed at one another.
Sarah was captivated.
Engraved in the granite base a Bible verse made a request:
Suffer the little children to come unto me, and forbid them not;
for such is the kingdom of God.
Nearby, a sign hung from a black metal pole:
Welcome To Our Garden.
She stood among the graves of children arranged in neat rows and identified by small ground level markers. Lovingly placed among them were toys, stuffed animals and pictures of parents; a few revealed a photograph of the deceased set into the headstone. Their names danced in Sarah's head: Tyler, Anthony, Madison, Kaylee, Parker and Paige. Why did their lives end so young? What were their parents like? Chiseled on a flat white stone a poem read:
If tears could build a stairway,
And memories a lane,
I'd walk right up to heaven,
And bring you home again.
It made her sad as her thoughts wandered from the reluctant swans to the kind old man and finally to the names of the children enshrined around her. She gazed longingly at the little girl on the monument as she rubbed her wedding ring and thought of Albert's words.
In God's time.
The afternoon was waning. Briefly primping in the rearview mirror Sarah was pleasantly surprised that a nasty pimple which had appeared only this morning had completely vanished. Great! Driving her Jeep through the main gate she pulled onto the highway and headed for home. Glancing toward the pond in the distance she saw an old man with a cane sitting on a bench. At his feet were the two swans.
Chapter 8
At the scheduled afternoon hour Jonas pulled his Chrysler 300 to the front of Professor Fodor's stately Cincinnati home.
"Nice to see you again Doktoor Reddinkton," Marta greeted. She took him by the arm as they walked into the foyer. "Vood you like some coffee?"
"Sure."
"Come right in," the professor called, standing in the doorway of his study at the end of a long hallway. Jonas strode by the elegantly framed faces that lined the walls of the professor's Hunky Hall of Fame before clasping Laszlo's outstretched hand; behind him on his desk sat the Box. Soon Marta returned bringing a silver tray of coffee and pastries.
"Marta, we can take care of that," the professor grumbled as he ambled toward his desk.
"Nonsense!" She smiled as she poured coffee. "You prefer black, yes?"
"That's right," Jonas winked. Marta handed him a cup and left the room.
"She didn't pour mine. I think you charmed my wife away from me," the professor snickered. He then donned a sober countenance. "Please, sit down."
After both men settled into their chairs Professor Fodor removed his glasses and folded his hands on a yellow folder in front of the Box. Beneath the folder was an oversize book filled with illustrations of European art. For a few moments he gazed in silence at the Relic.
"What's on your mind, Laszlo?"
"You said your father acquired this artifact in Italy in May 1944."
"That's right."
The professor rubbed his chin before opening the yellow file folder and removing a printout peppered with data. "Let me begin by pointing out that radiocarbon dating indicates that the wood used to construct this relic is twelfth century oak, probably from the Black Forest in Germany. I know that area well as my family used to visit it occasionally before the war – a beautiful place." He rapped his fingers on the desk and then continued, pointing to the inscription on the backside of the Box with a pen.
"Et omnia in quibus habitant filii hominum et bestiae agri volucresque caeli dedit in manu tua et sub dicione tua universa constituit tu es ergo caput aureum."
"And wheresoever the children of men dwell, the beasts of the field and the fowls of heaven hath he given into thine hand, and hath made thee ruler over them all. Thou art this head of gold. Daniel chapter 2 verse 38."
"A Bible verse?" remarked Jonas, surprised.
"From the Latin Vulgate." Laszlo turned the Box to its left side. "This inscription reads: Providentiae Tuae Me Committo. Latin for: I Commit Myself to Your Providence." He rotated the Relic again. "This mother-of-pearl inlay for the inscription on the front is of a higher quality derived from select abalone shells, and the lettering style resembles East Germanic Gothic, an extinct language spoken by the Ostrogoths of ancient Germany and Italy and by the Visigoths of Eastern Europe and Spain."
He rubbed the letters of the inscription with his fingers.
"I find this choice of the Latin phrase 'MEUS INSOMNIUM' intriguing. Actually, in early Latin the word 'Insomnium' possessed a dual meaning. It meant either 'Dream' or 'Nightmare." I'm left wondering why a more precise word wasn't employed such as 'somnium' which specifically means a dream or 'incubus' which specifically indicates a nightmare. Most curious."
"So you're saying it can mean both?"
"Correct. This phrase Meus Insomnium translates as either My Dream or My Nightmare." The professor cleared his throat and continued. "Of particular interest is the woodcut on the lid."
He motioned for Jonas to come to his side.
"This is a masterful replication of Melencolia I, a copper engraving completed in 1514 by German renaissance artist Albrecht Dürer. In fact, he's the most famous artist of Reformation Germany although I'm proud to note that his parents were originally from Hungary and then moved to Nuremberg where Dürer was born. He grew into a pious man and wrote of his Christian upbringing." The professor slid a note from his folder and began to read…
"My father suffered much and toiled painfully all his life, for he had no resources other than the proceeds of his trade from which to support himself and his wife and family. He led an honest, God-fearing life. His character was gentle and patient. He was friendly towards all and full of gratitude to his Maker. He cared little for society and nothing for worldly amusements. A man of very few words and deeply pious, he paid great attention to the religious education of his children. His most earnest hope was that the high principles he instilled into their minds would render them ever more worthy of divine protection and the sympathy of mankind. He told us every day that we must love God and be honorable in our dealings with our neighbors."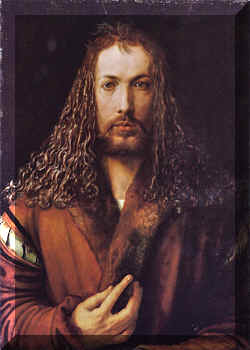 Albrecht Dürer self-portrait in the year 1500
"Okay, so he was a religious man," Jonas acknowledged. "Would it be reasonable to assume that mindset influenced his art?"
"Indeed. In Melencolia Dürer intended to symbolize the relationships between morality, theology and intellectual ideas." The professor pointed to a portion of the engraving. "See, here's the figure of an androgynous angel. In troubled reflection it represents the melancholy artist who has the knowledge and skill to create but is weighed down by wings of inspiration which in this case won't fly.
"You say androgynous," Jonas remarked. "I was wondering about that. I can't really tell whether the angel is male or female. It appears to have the husky physique of a man yet the head possesses feminine qualities. Perhaps, like the inscription, it's another duality."
"Some have said the figure is female. Others maintain it represents Dürer; he did have similar features and long hair, depicted in several self-portraits in oil. It was not uncommon to portray males with feminine facial features, such as the disciple John seated beside Jesus in Leonardo Da Vinci's The Last Supper. It was the artistic zeitgeist of the time." Donning his eyeglasses the professor moved the yellow folder aside to expose the large book of European art, turning the gilded pages of the elegant hardback. A page displayed a reproduction of Dürer's original engraving. It was virtually identical to the one on the Box.
"Here it is. Melencolia I is believed to have been the first of what would have been four copper engravings by Dürer, hence the suffix 'I." His engravings were intended to illustrate the four human personality traits: Melancholy, Sanguine, Choleric and Phlegmatic. But let's back up here for a moment." The professor eased back into his chair. "During the first half of the thirteenth century wooden boxes of relatively modest design similar in size to your Relic began circulating in Catholic monasteries in Europe. This practice continued for about seventy-five years. Who originally fashioned them is uncertain but it's generally believed they were gifts from peasant craftsmen to the clergy. It was not unusual for the common folk to give gifts to the Catholic Church; perhaps it was a form of tithing. Regardless, your artifact's construction evokes the craftsmanship of that time and carbon dating places it in that same period. A box like this would most likely have been used for the storage of personal effects such as letters, coins and jewelry, writing instruments or perhaps small religious icons." The professor removed his glasses and cleaned them with a handkerchief as he continued speaking. "By the early sixteenth century a box much like your father's was rumored to be in the possession of Maximilian I, German king and Holy Roman emperor who established the Habsburg dynasty as an international European power. Indeed, Albrecht Dürer is known to have made several elaborate engravings for Maximilian.
Jonas interrupted the professor, "Hold on a minute Laszlo. Are you saying my dad's Box was made by Albrecht Dürer?"
"I'll answer your question momentarily. Just stay with me. The inscriptions, the round gold disk and the crowning Dürer woodcut were added a number of years after the original construction of the Box so that it probably appeared much as it does today by the time it was in Maximilian's hands. Look closely here."
The professor pointed to an edge on the top of the Box.
"You can see how this vertical woodcut was made separately then attached to the top to achieve a fit. Then it had to be filed down on the left, right and bottom edges to line it up flush with the edges of the Box. And clearly, this engraving would have to have been added after the Box's original construction in the thirteenth century because Dürer's famous original copper engraving which this woodcut duplicates was completed in 1514, approximately three hundred years later. Also, peasant craftsman in thirteenth century Germany would not easily have obtained abalone shells for mother-of-pearl inlays, or gold to make the round disk on the side of this Artifact. However, these embellishments would have been possible by a respected artist in favor with the royals, and such a relationship Dürer held with Maximilian."
Jonas gave the professor his rapt attention.
"History is silent on the Box after this period for several centuries until December 1942. Enter Count Galeazzo Ciano, Italian diplomat and son-in-law of Italian dictator Benito Mussolini. In 1936 Ciano became minister of foreign affairs serving until February 1943 when Mussolini relieved him of his post because of the Count's unwillingness to make Italy totally subservient to Nazi Germany. He was then appointed ambassador to the Vatican but later that year Ciano led a group of fascist leaders who conspired to overthrow Mussolini. In the fall of 1943 Ciano was arrested by the Germans and executed for treason by Mussolini's Italian supporters the following January."
Dr. Fodor rose from his desk, grabbed a pair of binoculars from a bookshelf and limped to the large picture window. "I see the cardinals have taken to my feeder." Two red males squabbled as he watched.
"This Count Ciano fellow found the Box?" asked Jonas as he pressed for more details.
"Not exactly." The professor returned to his desk. "In late December 1942 during his final visit with Hitler at his headquarters in the forest of Gorlitz in Germany the Count was given a gift intended for Mussolini. It was an old box with an engraving on the top.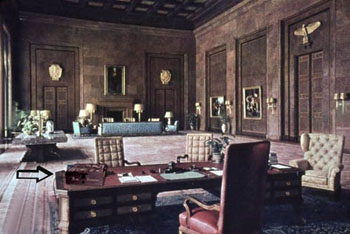 Rare photograph of Hitler's office in the Reich Chancellery in 1942
(note item on desk indicated by arrow)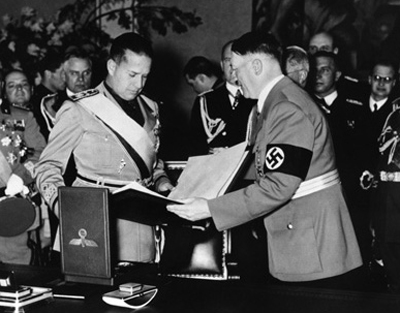 Count Ciano receives gifts personally presented by Adolf Hitler
Now, Count Ciano kept a diary into which he made almost daily entries from 1937 until December 1943. However, during his tenure as ambassador to the Vatican there are no entries, which I find curious; in fact no entries from February to mid December 1943. Some believe that Ciano's account of his presentation of the gift to his father-in-law was detailed in this missing section. According to Edda – Mussolini's daughter and Ciano's wife – the Count told her that although Mussolini was in a 'rather bad mood' that day he was pleased with Hitler's gift – until Ciano explained the Führer's reasoning behind it. You see, Hitler was a great lover of German art but he also had a considerable admiration for the art and history of Italy. Hitler's rather fanciful interpretation viewed the relic as a hybrid of German skill and Italian artistry. The Gothic lettering – of German origin – and the Latin language, originating in ancient Italy, symbolically merged the two cultures intellectually. The phrase Meus Insomnium gave title to what Hitler purportedly said was, 'My Dream of a Great Empire which embodies the best of both the German and Italian peoples and glorifies the supremacy of the Aryan race.' At this, according to Edda's account, Mussolini became enraged. He was offended that Hitler had referred to this 'Great Empire' as his dream and also that the German woodcut appeared on the top of the Box, while the Latin inscription was below it, which he found demeaning and insulting.
"'Remove this outrageous and vulgar work of German peasantry from my sight!' Mussolini shouted. So, the Count kept the gift but eventually forwarded it to his wife Edda, the last known person to have possession of it. Later the Countess obtained her husband's diary and made numerous copies, stowing them away in different cities in Europe in the months following his death. However, Hitler's gift and any purported references to it are nowhere to be found. Edda was said to have recounted from memory some of the missing entries to an American newspaper reporter after her escape to Switzerland but the accounts were considered questionable and bizarre and therefore not included in the published record we now possess."
"Hitler's Dream – the world's Nightmare," Jonas said. He returned to his chair. "Why remove portions of the diary referring to the Box?"
"I don't know."
"If I understand what you're saying, you're saying…."
"I believe there's a possibility that your father's Box is Adolf Hitler's gift to Mussolini," the professor interrupted. "I would like to examine it further to determine whether the engraving on the top is actually by Albrecht Dürer himself. If it is you have quite a valuable item in your possession. Indeed, if any of this proves to be authentic it should be in a museum at the very least."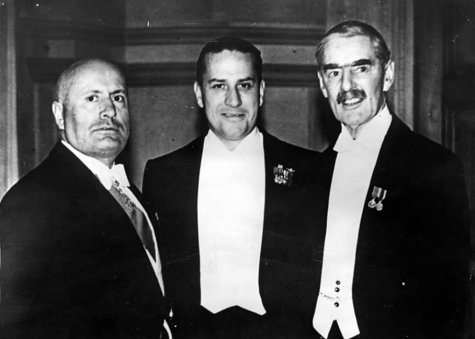 Left to right: Benito Mussolini, Count Galeazzo Ciano
and British Prime Minister Neville Chamberlain
Jonas leaned back into his chair pondering Laszlo's words.
"The fact that your father obtained it in Italy and only a few months after Count Ciano's death lends further credibility as to its authenticity. It's likely that when the Count fell out of favor with his brutal father-in-law and as Mussolini's fascist regime began to crumble mementos and other tangible possessions of the leadership began to fall into the hands of its indignant populace. In the end Benito Mussolini was lynched by his own people." Laszlo held a rigid gaze. "When may I continue my examination of this Curiosity?"
"If you'll recall I'm using it in therapy sessions with a few of my patients. It's linked to some rather important psychological research I'm exploring, Laszlo. I'll only need it for a few more weeks."
The professor sighed.
Jonas gulped down the last of his coffee. "Let me ask you something. Why does it appear that the Box can't be opened? I mean, I can't detect any seams. Can you explain that?"
"I've given that thought. Either it was created as a solid piece, not meant to be opened, or it just appears that way."
Jonas stared, perplexed.
"Maybe there never was a key. Maybe it's more about the Box itself than what's inside of it. On the other hand if the Box was designed to be opened the seams may be fused by petrification. It's as hard as concrete in case you didn't notice."
"I suppose if someone wanted to open it badly enough a good hammering would do it. Or maybe an X-ray could reveal something inside," Jonas mused.
"Because of its rigidity I'm afraid blunt trauma might shatter it and place its contents, if any, in jeopardy."
"Can wood petrify in only a few centuries?"
"Not naturally. However, this Relic was created during the time of the alchemists – those who fruitlessly tried to create a substance that would transmute base metals into gold: the so-called Philosopher's Stone. The metallic scent of the wood appears to be the result of a lengthy immersion in a chemical bath, some properties of which cannot be identified and I believe this has accelerated petrification. In fact, this metallic wood, if you will, may be an entirely new constituent and if we can fully identify its composition it may result in a new addition to the Periodic Table of the Elements. X-rays cannot penetrate your lead saturated Relic; we've already tried that. And it's too dense for Ultrasound waves to get through. Computed Tomography, better known as a CAT or CT scan, provides detailed three dimensional views of soft tissue, not a petrified artifact. Furthermore, because of the dense metallic composition of the wood, the level of magnetism necessary to penetrate it using Magnetic Resonance Imaging would rend your Artifact to shreds and probably destroy the MRI machine in the process. It even resisted a diamond tipped drill, which merely glanced off." The frustrated professor tapped on the side of the Box with his pen." My friend, I don't believe this Relic will reveal its secret easily."
"Secret? Good lord, Laszlo, you're making this all sound so intriguing," chuckled Jonas nervously.
"Well frankly it is. Did you notice the sixteen numbers on the woodcut?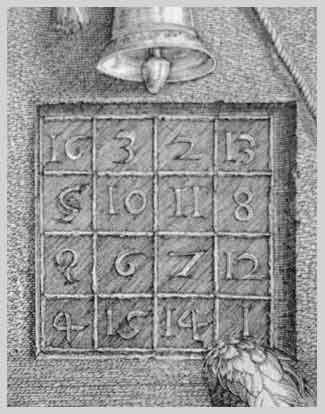 "The four numbers on the bottom row horizontally are 4, 15, 14 and 1. Notice the middle two: 15 and 14. 1514 – the year the original copper engraving of Melencolia I, and presumably this woodcut, was made. There has been considerable speculation about the meaning of these 16 numbers but so far no one fully understands their significance. Perhaps the numbers represent some sort of cipher or cryptogram needed to open the Box."
"Then why is there a keyhole?"
"Young man, I wish I could answer all the questions this curiosity provokes. I don't know. I'll need more time."
Jonas arose from the comfortable leather chair. "Thanks Laszlo. I'll bring it back, I promise."
The professor returned an earnest gaze over the rims of his glasses. "Please. To lose the opportunity to explore such an entity would be a nightmare."
Chapter 9
For more see below.
---
Meus Insomnium is available online worldwide through Amazon.com,
Barnes & Noble and other independent booksellers.
The popular secure links listed below are for your convenience.
Own Meus Insomnium as a printed book or download it as an eBook for your Kindle.
Own Meus Insomnium as a printed book or download it as an eBook for your Nook.
---
Attention Bookstores, Libraries and Independent Resellers!
Click on the link below for important information.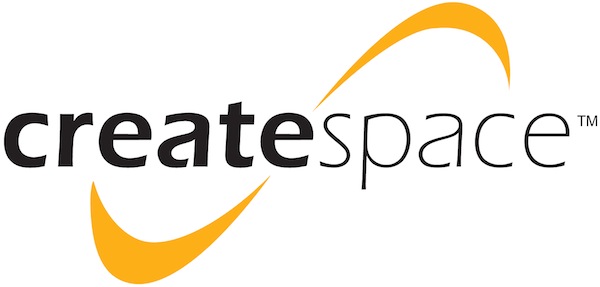 ---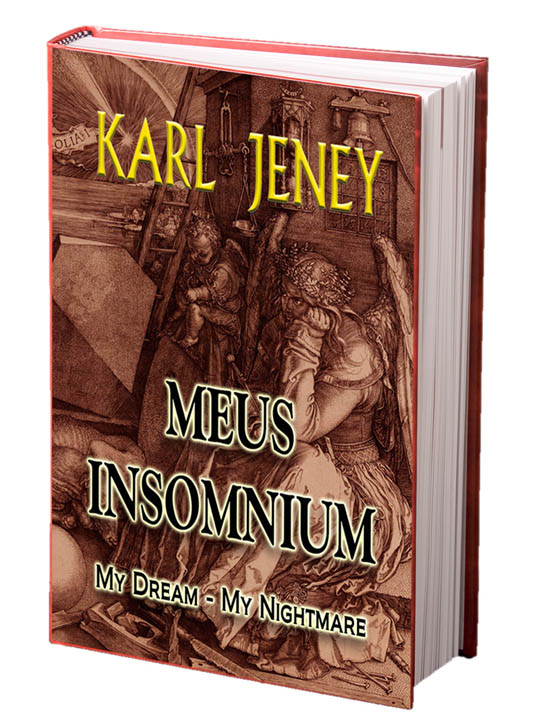 More about the author: Karl A. Jeney is an engaging novelist with a flair for combining history, psychology and spirituality. He has contributed to The Columbus Dispatch Newspaper's Create-a-Classic online novel series, has written a short story of the CW Network's TV program "Supernatural" entitled "Winchester Cathedral" and currently has two more novels and a short story under construction. He resides in central Ohio with his sweetheart Lori and a menagerie of dogs and cats. For more information or to schedule an interview or book club appearance, please email him at:
or contact him at:
---
The title Meus Insomnium and all associated images copyright 2006-2011 Karl A. Jeney
and may not be used, copied or disseminated without the express permission of the author.
Meus Insomnium is a work of fiction although the majority of the historical details in the novel are accurate.
"Hide not your talents, they for use were made.
What's a sun-dial in the shade?
If you'd not be forgotten when you're dead and rotten,
Then write something worth reading or do things worth writing."
- Benjamin Franklin -